In the past, information was only accessible through "classic" media (newspapers, trade magazines, commercials, etc.) today, however, they are just a click away and easily and immediately available.
The advent of the internet has also positively subverted the way of doing business for many companies: immediacy and the ability to measure the results of the strategies used are the great advantages of digital marketing.
It is important to know and use digital marketing tools to define a digital strategy with specific and measurable objectives to reach your potential customers much more easily and retain them.
Conceptually, the techniques used in traditional marketing are translated onto the Internet, but there are substantial differences with digital marketing which has the great advantage of being immediate and measurable.
What are the benefits of digital marketing?
Generating and increasing your company's online visibility.
Achieving a broader and more global market.
Creating a relationship and interaction with your audience to build loyalty and increase brand awareness.
Interaction with your potential customers and identification of their needs to understand what they are looking for.
Involvement of users with an effective social media marketing strategy that aims to increase engagement.
Tracking and monitoring of user actions in real time to be able to adjust the shot of your digital strategy.
Save time and money: A targeted digital marketing campaign can achieve goals at lower cost than traditional marketing techniques.
Measurable results: this is another great digital marketing innovation. In fact, to measure the effectiveness of campaigns, there are Web Analytics that provide an immediate and accurate picture of how customers use your website.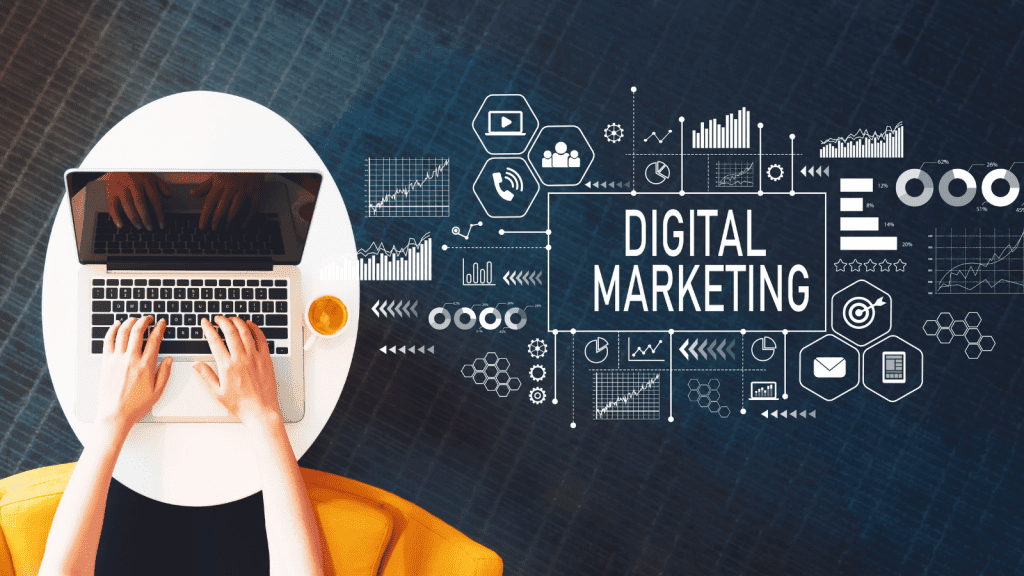 How to achieve the goals set by digital marketing?
To achieve the goals set by digital marketing and implement the defined online strategies there are several elements, let's see the main ones:
Optimized website: a user visited a site in a few minutes before deciding to continue or abandon navigation. Therefore it is essential to offer a smooth and pleasant navigation from all devices, according to the dictates of the UX (User Experience).
Content Marketing: the contents that are created and inserted within the site are very important and impact the positioning on search engines.
Email Marketing: sending emails to your customers to retain them and to potential customers to attract them.
SEO positioning: is the positioning of a site or page on search engines. E-commerce: online stores to sell their products or services.
Social Networks: are the platforms (Facebook, Instagram, Twitter, YouTube, Pinterest, etc.) that are produced to spread our content and that create engagement.
Chatbots: also called bots, they are software programmed to respond to inputs automatically. They come in the form of chat and their advantage is to optimize times.
Video marketing: use of videos on the Internet. The way to obtain the best results is to involve all the teams of a company who participate in the creation of videos where it is explained, for example, how a product works (tutorial), or present interviews, testimonials, etc.
Live Streaming: This is one of the most innovative ways of promoting a brand by disseminating information in real time to listeners. Suffice it to say that Facebook Live has millions of active users who interact when there is a live stream. With live streaming we are able not only to engage users, but also to improve the SEO position and increase conversions.
It is clear that the role of digital marketing is to improve a company's online communication and visibility.